HUNGARIAN SOCIETY FOR DENTAL IMPLANTOLOGY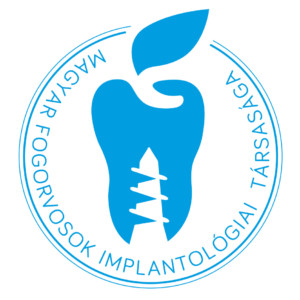 Address: 
Semmelweis University, Faculty of Dentistry, Department of Oro-Maxillofacial Surgery and Stomatology
H-1085 Budapest, 52 Mária Street 
 
President:
Dr. Árpád F. Joób PhD
Associate Professor
Semmelweis University, Faculty of Dentistry, Department of Oro-Maxillofacial Surgery and Stomatology
E-mail: joobarpad@gmail.com 
Secretary:
Dr. Sándor Bogdán, PhD
Assistant Professor
Semmelweis University, Faculty of Dentistry, Department of Oro-Maxillofacial Surgery and Stomatology
E-mail:dr.bogdans@gmail.com
Executive board:
Prof. Dr. Katalin Nagy DDS; Ph.D.
professor, head of department
University of Szeged
E-mail:katalin.nagy@universityszeged.hu
Dr. Attila Szűcs – treasurer
Dr. Béla Czinkóczky – board member
Dr. Tamás Divinyi – board member
Dr. Róbert Kemper – board member
Dr. Pál Redl – board member
Dr. Marianna Tálos – board member
Dr. István Urbán – board member
Dr. István Vajdovich – board member
Dr. Péter Windisch – board member
Brief history: 
The Society was found in November 1989 as Implantology Section of HDA, which was a sub-group of Hungarian Dental Association. The main objectives of the Society were spreading science-based implant prosthetics while excluding the influence of commercial interests, and the organization of teaching of new methods. In 1990, another "competing" Society was found, the Hungarian College of Osseointegration.
The Implantology Section held its first congress in 1992 in Szentes. In 1994, the Implantology Section and the Hungarian College of Osseointegration are united under the name Dental Implantology Association of Hungarian Dentists (DIAHD). The "parent" Association, the Hungarian Dental Association recognized DIAHD as a member-association pursuing independent management. DIAHD worked from second half of 1990s with exceptional activity. After their first congress they held every 2 years similar events. Every 2-3 months scientific meetings were held, where also the lectures for active membership were given.
After the millennium the DIAHD focused mainly on disclosing professional recommendations and on participating in the organization of less frequent, but undoubtedly bigger congresses.
Logo: http://mafit.org/sites/default/files/pdf/MAFIT-logo2014.pdf
Website: www.mafit.org