Hungarian Journal of Dentistry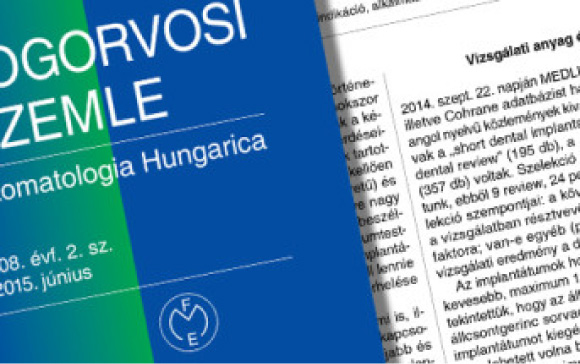 ABOUT FOGORVOSI SZEMLE
Fogorvosi Szemle is the official scientific journal of the Hungarian Dental Association, an open access journal available to everyone via this website and in the OJS database.
The Fogorvosi Szemle was founded in 1908 by Dr. Zoltán Körmöczi, and since then it has been the only peer-reviewed professional scientific medium in the Hungarian dental society. The language of the journal is Hungarian, with an English summary and keywords in English in all articles. 
The journal is a forum for publications which have not been published elsewhere, based primarily on the results of research in various fields of dentistry and oral biology. It provides a place for publications based on the results of interdisciplinary research on dentistry, in addition to the fact that one of its main goals is to serve the continuous training and further trainings of dentists. Along this philosophy, it regularly publishes review papers compiled by professional authorities, who are asked by the Editorial Board.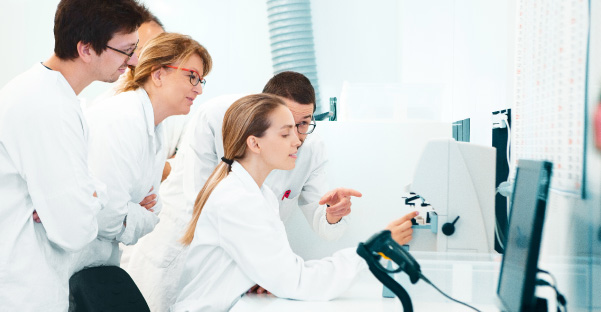 Editorial office:
H-1088 Budapest, 47 Szentkirályi Street
Department of Prosthodontics
Telefon/Fax: 00 36 1 3171094
hermann.peter@dent.semmelweis-univ.hu
Publisher:
Hungarian Dental Association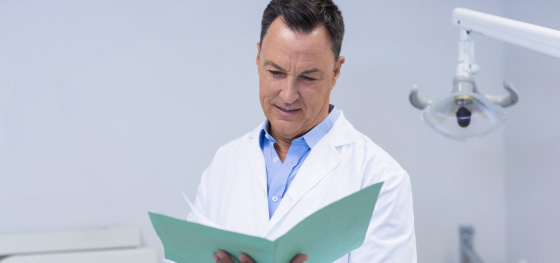 Online availability:
Previous issues of Fogorvosi Szemle, the "Guide to the Authors of the Fogorvosi Szemle" and the "Copyright Disclaimer of the Fogorvosi Szemle" can be found on the HDA's website. From December 2017, articles from Fogorvosi Szemle are also available in the Dentistry and Oral Sciences section of the EBSCO database.
Actual issue available online:
Previous issues available online:
Index: 25 292
You can click here to download the copyright statement / Statement of permission to publish: 
OFFICIAL JOURNAL OF THE HUNGARIAN DENTAL ASSOCIATION 
Founded by Dr. Zoltán Körmöczi in 1908
Chief Editor: Dr. Péter Hermann 
Members of the editorial board:
Prof. József Barabás MD. Ph.D - Semmelweis University Faculty of Dentistry, Department of Oro-Maxillofacial Surgery and Stomatology
Assoc. Prof. Zoltán Baráth DMD, Ph.D - University of Szeged, Faculty of Dentistry, Department of Prosthodontics
Assoc. Prof. Judit Borbély DMD, Ph.D - Semmelweis University Faculty of Dentistry, Department of Prosthodontics
Prof. Csaba Dobó Nagy DMD, Ph.D – Semmelweis University Faculty of Dentistry, Department of Oral Diagnostics
Prof. Tamás Divinyi DMD, Ph.D - Semmelweis University Faculty of Dentistry, Department of Oro-Maxillofacial Surgery and Stomatology
Prof. Ferenc Dőri DMD, Ph.D - Semmelweis University Faculty of Dentistry, Department of Periodontology
Prof. András Fazekas DMD, Ph.D. – University of Szeged, Faculty of Dentistry, Department of Prosthodontics
Assoc. Prof. Márk Fráter DMD, Ph.D. - University of Szeged, Faculty of Dentistry, Department of Operative and Aesthetic Dentistry
Assoc. Prof. Gábor Gerber DMD. Ph.D –, Semmelweis University Faculty of Dentistry
Prof.  Csaba Hegedűs DMD, Ph.D – University of Debrecen, Faculty of Dentistry, Biomaterials and Prosthetic Dentistry
Prof. Péter Kivovics DMD Ph.D – Semmelweis University Faculty of Dentistry, Department of Community Dentistry
Gábor Kocsis S. D.M.D- private dentist
Assoc. Prof. Krisztina Márton DMD, Ph.D - Semmelweis University Faculty of Dentistry, Department of General Dental Preclinical Practice 
Assoc. Prof. Ákos Károly Nagy DMD, Ph.D - University of Pécs, Clinical Centre, Department of Dentistry, Oral and Maxillofacial Surgery
Prof. Katalin Nagy DDS, Ph.D., DSc – University of Szeged, Faculty of Dentistry, Department of Oral Surgery
Assoc. Prof. Zsolt Németh MD, Ph.D. - Semmelweis University Faculty of Dentistry, Department of Oro-Maxillofacial Surgery and Stomatology
Prof. Dr. József Piffkó MD. DMD. Ph.D – University of Szeged, Albert Szent-Györgyi Medical Center, Department of Oral And Maxillofacial Surgery
Prof. Márta Radnai DMD, Ph.D. - University of Szeged, Faculty of Dentistry, Department of Prosthodontics
Assoc. Prof.  Noémi Katinka Rózsa DMD, MSc, Ph.D. - Semmelweis University Faculty of Dentistry, Department of Paediatric Dentistry and Orthodontics
Assoc. Prof. Emil Segatto - University of Szeged, Albert Szent-Györgyi Medical Center, Department of Oral And Maxillofacial Surgery
Assoc. Prof. József Szalma DMD, PhD. - University of Pécs, Clinical Centre, Department of Dentistry, Oral and Maxillofacial Surgery
Prof. Ildikó Tarján DMD, Ph.D professor emerita - Semmelweis University Faculty of Dentistry, Department of Paediatric Dentistry and Orthodontics
Assoc. Prof. Zsuzsanna Tóth DMD, Ph.D – Semmelweis University Faculty of Dentistry, Department of Conservative Dentistry
Prof. Gábor Varga MSc, Ph.D., DSc – Semmelweis University Faculty of Dentistry, Department of Oral Biology
Péter Vágó DMD, Ph.D- private dentist
Assoc. Prof. János Vág DMD, Ph.D - Semmelweis University Faculty of Dentistry, Department of Conservative Dentistry
Prof. Péter Windisch DMD, Ph.D - Semmelweis University Faculty of Dentistry, Department of Periodontology
Prof. Tivadar Zelles DMD, Ph.D., DSc professor emeritus – Semmelweis University Faculty of Dentistry, Department of Oral Biology
 
Members of the international editorial board:
Prof. Andreas Stavropoulos DDS, Ph.D - University of Malmö, Department of Periodontology
Henriette Lerner DMD - HL DENTCLINIC & ACADEMY, Academic Teaching and Research Institution of Johann Wolfgang Goethe-University, Frankfurt am Main, Germany
Howard Gluckman BDS, MChD, Ph.D - Cape Town, South Africa, Implant and Aesthetic Academy
Jonathan Du Toit DDS, Ph.D - Cape Town, South Africa, Implant and Aesthetic Academy
Prof. Kaan Orhan DDS MSc MHM Ph.D BBA - Ankara University, Turkey, Department of Dentomaxillofacial Radiology
Ken Serota DDS, MMSc - Be International Dental Expert
Prof. Matekovits György DMD, Ph.D – member of the Hungarian Academy of Sciences
Assistant Prof. Prasanna Neelakantan BDS, MDS, Ph.D - The University of Hong Kong, Faculty of Dentistry
Assoc. Professor Rajiv Saini DMD - Periodontology and Oral Implantology of Pravara Institute of Medical sciences-Loni, Maharashtra, India 
Prof. Anton Sculean DMD, Ph.D– University of Bern, School of Dental Medicine
Prof. Andrew Spielman DMD, MSc, Ph.D., DSc – NYU College of Dentistry, Department of Basic Sciences and Craniofacial Biology
Prof. Székely Melinda DMD, Ph.D - George Emil Palade University of Medicine, Pharmacy, Science and Technology of Targu Mures
Assistant Professor Yair Whiteman DMD - UCLA School of Dentistry, Center for Esthetic Dentistry