Slow Dentistry is Safe Dentistry
Published by

rekabozso@gmail.com

on 2020, May 28 - 15:14


 is Safe Dentistry
The Hungarian Dental Association was honoured to have Dr. Miguel Stanley (Portugal) accept the invitation to speak on the main podium of SymposiumSzeged 2020 as the keynote lecturer. This may, Dr. Stanley would have also brought us a workshop to introduce slow dentistry to the Hungarian dental professionals. Due to the world-wide pandemic, the meeting was cancelled, and Dr. Stanley could not be in Hungary in May 2020. However, in these weeks of reopening our dental surgeries, it has become highly relevant that we provide our Hungarian colleagues the most up-to-date information that is spreading around the world. This is a method sealed by the name Miguel Stanley: Slow Dentistry.
Slow Dentistry ®, has carefully curated some of the world's leading dentists to be their Honorary Global Ambassadors. Honorary Global Ambassadors are selected for their outstanding contributions to improving the quality of dentistry in their practices, in education, on the lecture circuit, in the universities where they teach and of course to the general public. The 26 ambassadors come from 17 countries of 4 continents. Among them we can find Kenneth Serota from Canada, the founder: Dr. Stanley, and just recently Professor Katalin Nagy, HDA president has become a honorary global ambassador as well.
(as a sidenote, let us call your attention to Dr. Serota's series of videos presenting the leading figures in dentistry. You can find his interview with Dr. Stanley here, and with Professor Nagy here.)
Lacking the opportunity to learn personally from him, let us now, in this virtual space summarize what Dr. Stanley, director of White Clinic, and one of the most internationally renowned speakers holds about safety in dental practices.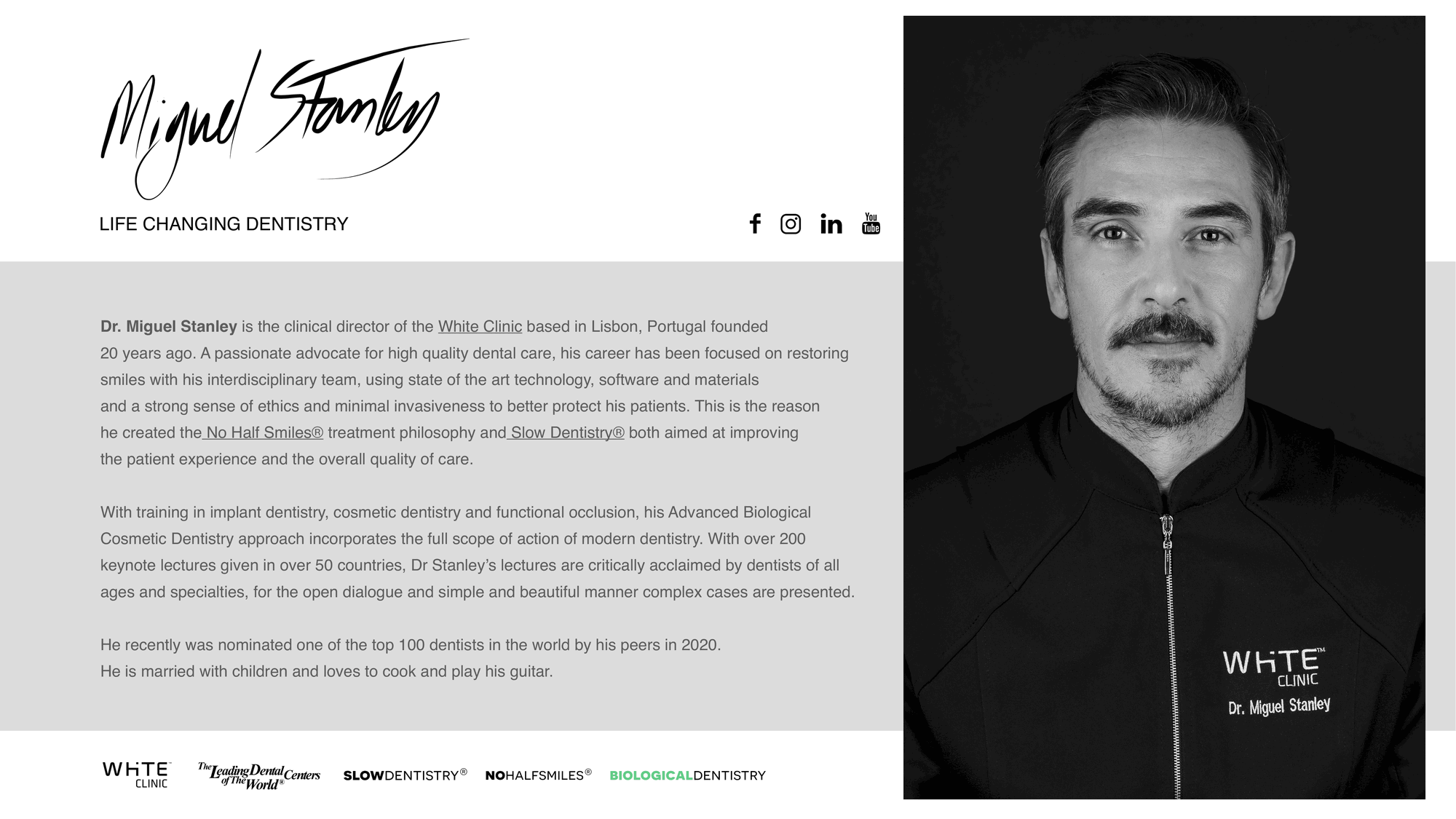 Dr. Stanley has in the past twenty years used and promoted the method of Slow Dentistry in his practice. Slow Dentistry, as you will learn, is safe dentistry. Now in the light of the global COVID-19 situation, it has become not only advisable, but straight out indispensable that surgeries adopt these guidelines. 
But what does Slow Dentistry mean? 
The movement of Slow Dentistry is aimed at both the dentists and the patients. It encourages long enough dental appointments, enabling the highest standards of anti-infection measures.
Its main goal is to improve the standards of care in dental practices worldwide to ensure the patients' safety, well-being, comfort and understanding. The Slow Dentistry team is building a network of member clinics committed to taking time with the patients in their appointments. 
The main commitment of Slow Dentistry is also about taking the time to properly clean, disinfect, and prepare for the next patient. High patient turnout seldom leads to practicing safe dentistry.
What are the cornerstones of Slow Dentistry? 
 Anaesthesia
Rubber Dam
Room Disinfection
Informed Consent
The cornerstones are easily identifiable and are a means to allow the patients to influence their own safety and well-being at the dentist.
Naturally, the question arises: how many patients can we treat this way, will it not radically reduce income? Dr. Stanley predicts that the COVID-19 situation brings with it a general tendency from patients to start putting safety ahead of time and cost. Thus Slow Dentistry aims to help dentists identify all the steps that need to be taken to ensure patient safety and, of course, the safety of their team, and promote this to the general public.
"Never before has it made more sense to take the appropriate amount of time to correctly disinfect your hands and properly disinfect the treatment room in between patients (…)all clinics must invest a minimum of 10 minutes in between appointments to properly disinfect all surfaces." 

 
We have received a wonderful set of guidelines from Dr. Stanley, please read, use, download, post freely: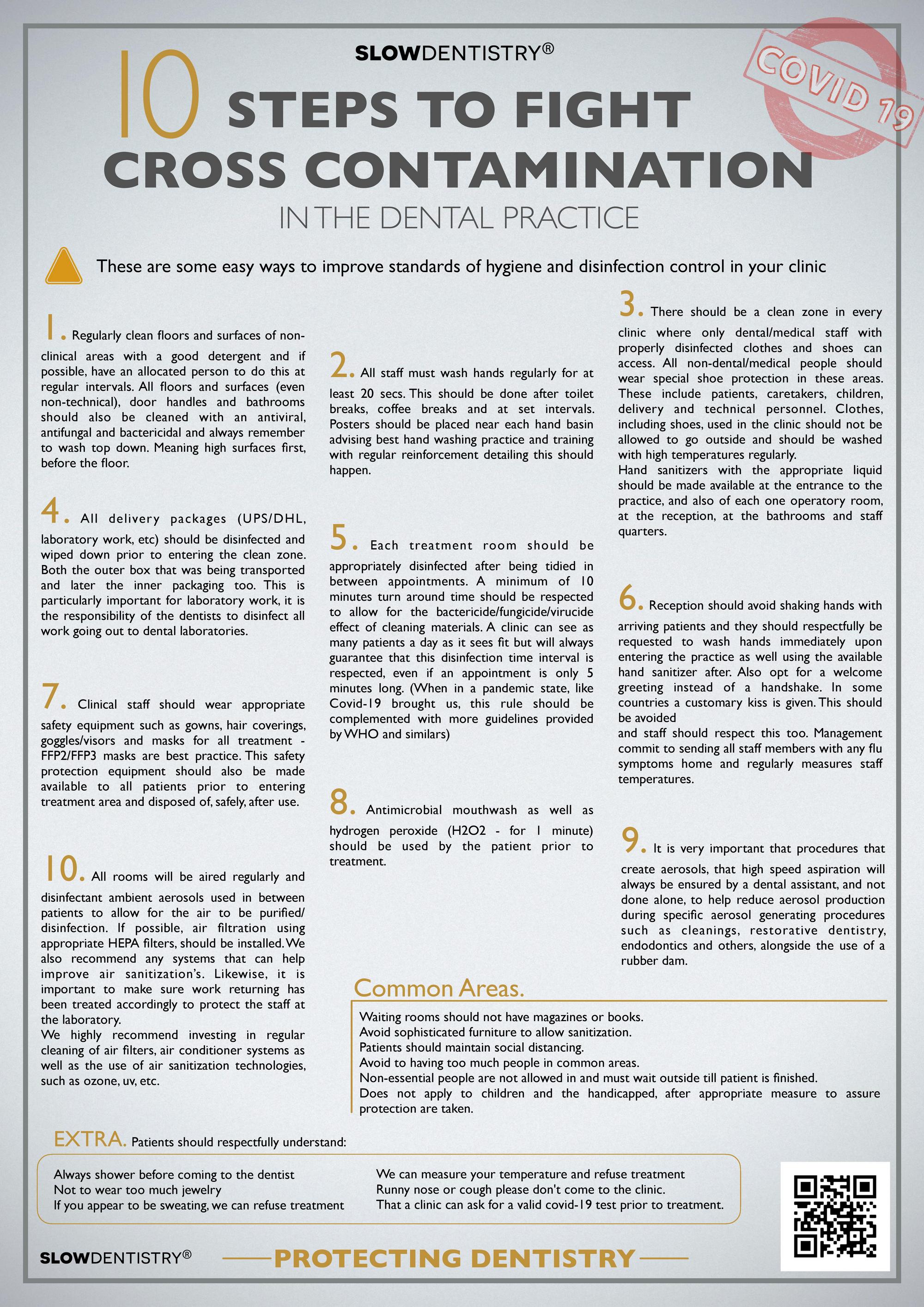 Slow Dentistry Membership
Single dentists, hygienists as well as clinics have the possibility of becoming Slow Dentistry members. 
If you decide on joining Slow Dentistry you will belong to something bigger than just your practice, you will join a movement that is all about focusing on the patient. 
It is never about talking about the techniques and materials you use, the four corner-stones have no cost to implement. Join, if you fundamentally believe that you are different than low-cost clinics that can only support their pricing through high-volume.
"The bigger our network, the more paying members, the more we can market on Google, Facebook and global social media including the press, making sure that the public understand the difference between price and safety. Between cost and value. Between doing the right thing and only making money."
Dr. Miguel Stanley

 
Slow Dentistry has offered Hungarian Dental Association members a wonderful possibility of being able to join the network for reduced prices. HDA members and their clinics can join the network with a 20% reduction, which comes off of the prices below:
For Dental Hygienists

€99.99 per year

For single dentists not owning their own clinic /

working in one or mul-tiple clinics

 

€199.99 per year

 

Young Dentists within two years of graduating

€129.99 per year

 

Single Clinic

€299.99 per year

 
It is important to know that the reason this is a paid platform is that targets the patient.
What does slow dentistry offer for a surgery or a sole practitioner who becomes a member? 
The cornerstones
Help&Consent
Hygiene
The network of Slow Dentistry
Patient care
Time management
Patient Awareness
For more information on the benefits of being the member of Slow Dentistry visit: https://www.slowdentistry.com/for-the-practitioner/ 
Are you interested in joining? Contact Slow Dentistry under:    https://www.slowdentistry.com/how-to-become-a-member/
and write the note that you are a member of the Hungarian Dental Association.
"Why should we be taking any further risks in the future with public health? It is time to go slow." 
Sources and further articles on the topic: 
•    https://www.slowdentistry.com/
•    https://www.miguelstanley.com/coronavirus-impact-on-dental-practices-slow-dentistry/
•    https://www.dental-tribune.com/news/dentists-on-coronavirus-reality-around-the-globe-dr-miguel-stanley-from-portugal/
•    https://eu.dental-tribune.com/news/the-importance-of-going-slow/
•    https://www.dentistryiq.com/covid-19/video/14175463/coronavirus-impact-o...
English